Education
Electronic Business Specialization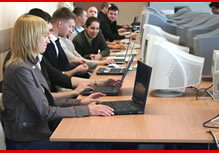 The purpose of Electronic Business specialization is to prepare a new class of IT managers who will be able to work in creative and effective ways in the global electronic economy.
Graduates of Electronic Business specialization will be experts in the implementation of e-business technologies in enterprises and also in reengineering business processes of these enterprises to maximize profits and bring the most valuable benefits.
In 2011, 2013, and 2013, the Electronic Business specialization was placed on the list of the best university programs of the international evaluation system Eduniversal Ranking "The Best Masters and MBA Programs Worldwide". The ranking is created based on deans recommendations of 1,000 universities and business schools around the world. Votes are used to evaluate didactic methods and the quality of education.
Details on the Electronic Business specialization are available at http://ebiznes.kti.ue.poznan.pl
Education at Department of Information Technology
Department of Information Technology teaches each year more than 1,500 students of the Poznan University of Economics. Currently delivered courses are as follows:
Faculty of Informatics and Electronic Economy
Information Technology
Computer Programming

Database Systems

Digital Content Management

Business Processes in Organizations

Advanced Internet Technologies

Electronic Economy

Electronic Business Strategies

Web Application Project

XML Technology

Information Visualization

Electronic Negotiations

Multimedia Technology

Project Management

Software Design Patterns

Business Intelligence

IT System Security

Mobile Programming

Mobile Technology

Multimedia in Business

Service-Oriented Architecture

Ontology and Semantic Web

Modern Network Systems

Faculty of Management
Information Technology in Management

Faculty of International Business
Information Technology

International e-Business
Foreign Students' Education
Department of Information Technology delivers courses (lectures and lab sessions) of electronic business and electronic commerce areas for foreign students visiting the Poznan University of Economics within the Erasmus student exchange program.
In the years 2004–2013, Department of Information Technology delivered courses attended by a total of 220 foreign students from 26 countries: England, Belgium, Bosnia, Bulgaria, China, Czech Republic, Estonia, Finland, France, Greece, Georgia, Spain, Holland, Indonesia , Canada, Lithuania, Latvia, Moldova, Germany, Norway, Portugal, Russia, Slovenia, Turkey, Ukraine and Italy.
Courses currently offered for foreign students:
Electronic Commerce and Electronic Business
International E-Business

e-Negotiations
e-Governance